I woke up to a pair of dirt-blackened feet hanging just a couple of inches from my face. They smelled terrible. I was sweating profusely, drenching the couch of the Class-C RV I'd spent the night on. It was only 9 AM on a Saturday morning in Manchester, Tennessee, but it was already well above 30 degrees Celsius. That southern heat and humidity intensified inside the vehicular hotel room, especially with four others fast asleep inside after a long day and night of music and partying.
I swiped my buddy Mic's feet from my face. He was passed out on the bunk just above the couch I slept on. I sat up, grabbed the nearest bottle of water, and got back on the long road of cooling and rehydration. I turned on the RV's generator to crank up the air conditioner. I wasn't ready to put a shirt on yet though. I opened the side door and stepped back into the heat and sun. I looked around at all the other RVs, and wondered how many of them foolishly shut off their air conditioners in the middle of the night.
It was a long trip getting to that sweaty and foul Saturday morning. I got a Facebook message at the end of the winter from one of my lifelong friends Matt, who was serving in Afghanistan. He was due back in Canada at the start of June, and was looking for something to do to celebrate. He suggested the Bonnaroo Music and Arts Festival in Tennessee. I took a quick look at the lineup and said hell yes. It sounded like a great reason for a road trip, and I was in.
We planned to take an RV on the 1300 km trip from southern Ontario. We tried recruiting lots of friends and family, and ended up five people altogether: Matt, his wife Ruby, his brother Mic, Mic's girlfriend Paula, and yours truly. The planning was all worked out on Facebook, and as soon as June 9 rolled around we were picking up an RV from a rental joint in Hamilton.
What followed was a long haul through one province and four states that involved stops in the middle of nowhere to park and sleep in Walmart parking lots. The heat intensified the farther south we went. It peaked once we reached the outskirts of Manchester. Although we were mere miles from the festival site, we had to line up with thousands of other RVs arriving at the same time.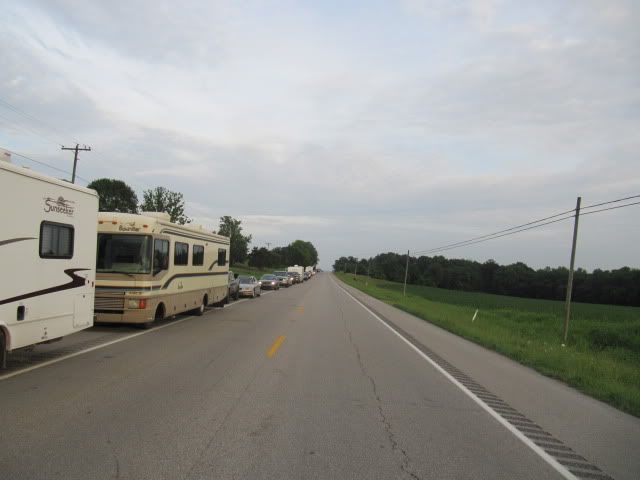 After a four hour wait, we were in.
The beauty of an RV is we had nothing to set up once we parked. We were driving our camp. We cracked a few cold ones and made our way to the site, eager to see the festival setup and whatever bands we could see.
11:15PM – Blitzen Trapper – The Other Tent
The first venue upon entering the festival grounds is The Other Tent. It was already packed with thousands of people. Blitzen Trapper is gaining steam on the indie scene, and whenever I hear something through the hipster grapevine I'm always a little apprehensive. But these guys played really solid folk-rock, a revival of sorts of some of the folkier rock acts of the 1970s. I was pretty impressed.
12:30AM – The xx – That Tent
Again, more hipster hype pulled me toward That Tent to check out The xx, but it also pushed me away. I'd seen these guys on Letterman before and was a little underwhelmed, but this set was a little more psychedelic and interesting. Pretty decent, but this venture was more valuable for getting our bearings among the festival's dozen or so music stages.
1:00 AM – Wale – This Tent
Psychedlic indie rock only goes so far, so luckily This Tent was just across from That Tent. We pulled out of The xx to see Wale play a pretty bangin' set of hip-hop. Rap music is always better with a live band behind it, and that's further elevated when the dude rapping is an exceptional showman. Wale kept the party going for another hour.
Beat after a long day of driving, we headed back to the RV to have a few more beverages and crash. We had a heavy schedule of music and partying in the three days ahead of us. Little did we know how heavy it'd be.
FRIDAY
The 30 degree heat woke us up bright and early. We were getting used to it, and ignored it as a minor nuisance because we were all stoked to get the day on the go. We got started right away, planning on seeing Conan O'Brien open the day's festivities.
1:00 PM – Conan O'Brien – Comedy Theatre
Little did we know, Team Coco lined up as early as 5AM to ensure they got into the theatre. Those of us who showed up at 12:30 had to watch it on a screen just outside. While it would have been killer to see his set "live", the next best thing still sufficed. Conan tore through a 90 minute set of standup, music, guest appearances (Deon Cole and Andy Richter) and bitter but hilarious anecdotes of his departure from the Tonight Show.
3:15 PM – The Gossip – This Tent
We all had our own agendas for music, so this is when I parted from the group. We toured the festival grounds in the daylight for a bit, then I checked out the eclectic punk/soul/rock of the Gossip. It was a fantastic set and Beth Ditto is a really charismatic and talented singer.
4:00 PM – Damian Marley & Nas – What Stage
We reconvened back at the What Stage for one of the most anticipated sets of the weekend – Damian Marley and Nas. Their Distant Relatives collaboration had dropped just weeks before the festival; an album combining Marley's soulful reggae and Nas' gritty classic hip hop. They opened with a few off that, before trading off on their own solo classics – notably cuts from Nas' Illmatic and Marley's Welcome to Jamrock. They closed the set with father Bob's "Could You Be Loved". It was one of Bonnaroo's best shows.
5:00 PM – She & Him – This Tent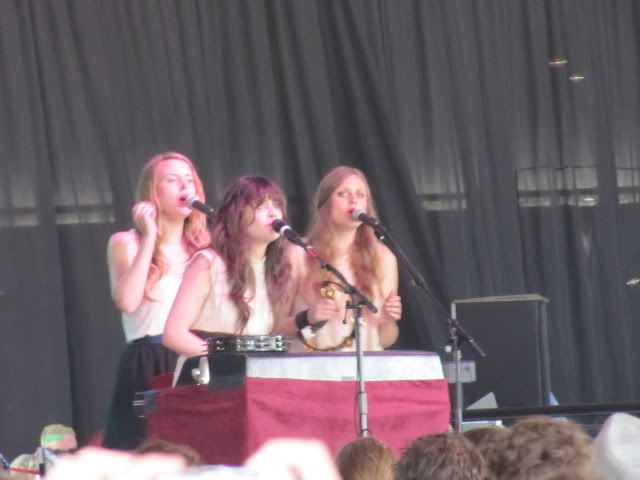 I rushed back over to This Tent to check out another celebrity collaboration. She & Him are actress Zooey Deschanel and folk hero M. Ward. They've put out two albums of sultry, soulful ballads and they treated the crowd to note-perfect versions of those songs here. I think every single person in the audience fell in love with Deschanel after this set.
6:00ish – The National – Which Stage
I had to eventually make my way back over to the What Stage to see my beloved Tenacious D. I had about half an hour to kill, so I stopped by the Which Stage to see what all the hype around the National was about. In short, I wasn't too impressed. Catchy tunes, but nothing original.
6:30 PM – Tenacious D – What Stage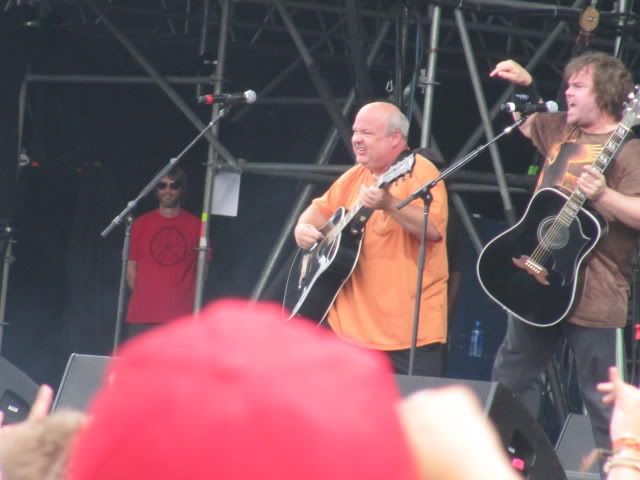 Back in the late 1990s a friend showed me a clip he found on what was then called the "Internet" of a duo called Tenacious D. It was an acoustic performance unlike anything I'd seen before and I fell in love. The only time I saw them live was in 2002 so I was extremely stoked for this Bonnaroo set. They played all the classics like "Tribute" and "Double Team", along with some apparently new ones. Hopefully there's a new album and a tour in the works.
The D totally had us rocked out. By this point in the day, that rock combined with the heat, sun, lack of water and food, and small amounts of beer began to take a toll. A few of us needed a little nap, and sadly we missed out on a few stellar acts like Steve Martin and the Steep Canyon Rangers, Les Claypool, and Michael Franti. But we were up and back at it for Kings of Leon.
9:30 PM – Kings of Leon – What Stage
These dudes are huge pop stars now, but few who know them in the mainstream realize they have their roots in southern rock and began their journey to stardom here at Bonnaroo. This set was a bit of a homecoming for them as big stars. I won't pretend I'm a big fan (hence the lack of good pictures from their set) but it was nice to hear some good southern rock next to their current hits.
Midnight – The Flaming Lips performing Dark Side of the Moon featuring Stardeath and White Dwarfs – Which Stage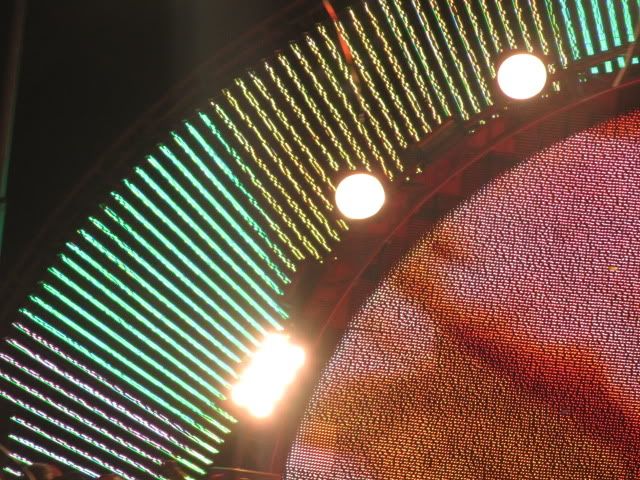 This is one of the shows I was specifically looking forward to all weekend. I've been a fan of the Flaming Lips' poppy weirdness for a long time, but I'd missed out on a few chances to see them live over the years. I was happy to hear they were gonna play a greatest hits set, followed by their take on Pink Floyd's Dark Side of the Moon. Although I loved songs like "Yoshimi Battles the Pink Robots" and "She Don't Use Jelly", the DSOTM set didn't totally thrill me. But the stage show was a massive spectacle.
And since I was pretty sure I was suffering from heat stroke, I went back to the RV to crash. Too bad, because I missed out on Kid Cudi, one of the rap acts I really wanted to see.
SATURDAY
And now we come to that rude awakening with the feet. The heat (and beer) did this set of Canadians in, and we were much slower getting up Saturday. I got up earlier than the others to try, in vain, to get into the Comedy Tent for Conan's second show. No dice. I returned to find my festival friends slowly getting everything together to get back to the site for the second full day of music. Saturday was the day I was looking forward to the most.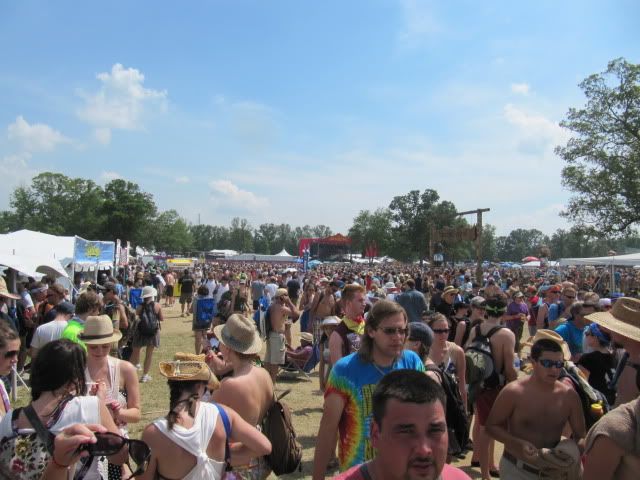 2:30 PM – Norah Jones – Which Stage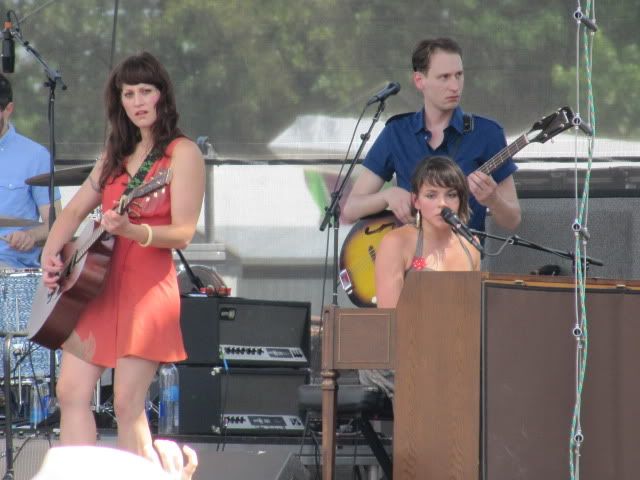 Paula, Ruby and I went to check out this superstar who I thought had a pretty early set for someone of her stature. I only know about an album's worth of her material, but I was delighted to see her open up playing guitar before sitting down for her trademark piano chops. It was a really sweet set. Then I parted from the ladies to dig some metal.
3:30 – ISIS – This Tent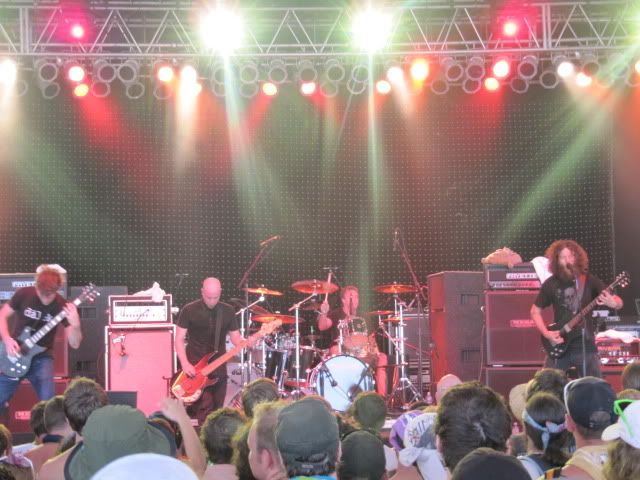 ISIS play a unique style of epic, psychedelic metal that really defies any sort of specific label. Their shows are immense and powerful, and when I heard this was their last tour, I was especially thrilled they were on the Bonnaroo bill. They played an emotionally monumental set and although the fans will miss them, we're glad they shared their stellar music with us over the past decade.
4:45 PM – Clutch – Sonic Stage
This was one of two Clutch sets at Bonnaroo, and since I had time to kill I wanted to check them out on the shorter more intimate Sonic Stage. It was nice to hear more stripped-down versions of their songs.
5:15 PM – The Melvins – This Tent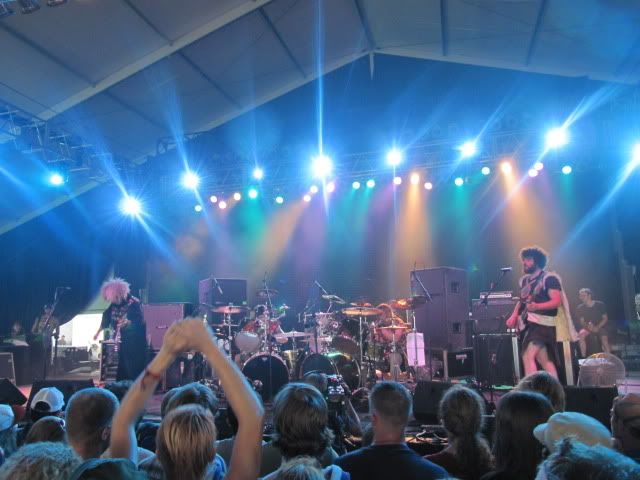 The living metal legends were one of the main reasons I wanted to go to Bonnaroo. They've been around for decades and have released some of the most kickass heavy music ever. Their new album also recently dropped and I loved it right away. They devoted about half of their set to it, but also played recent gems like "Billy Fish" and the "Civilized Worm". Not much older stuff, but I love this current lineup so playing a set heavy on newer material was cool with me.
6:30 PM – The Dead Weather – What Stage
Anything Jack White touches is gold. This newest band is my least favourite of his projects, but since they've released two solid albums in two years, I'm loving them more with each spin. This was a raw rock set that firmly established my love for singer Allison Mosshart. What a stage presence.
7:30 PM – Weezer – Which Stage
Everyone knows their hit songs and their hardcore fans will annoy you at any show. Still, this was a really enjoyable set by a band that should be really admired for its longevity. The other highlight from their set was randomly running into Matt and Ruby again. I'd been on my own for hours, and to see them there was like Christmas.
8:30 PM – Stevie Wonder – What Stage
I've always believed you need to respect and experience the music that flourished in the generations before yours, and continue to echo throughout your life. That's what Stevie Wonder is to me, and seeing a living legend like him in this setting was unbelievable. Hits like "Higher Ground" and "Superstition" were amazing, but hearing "Another Star" in the encore blew my mind.
11:30 PM – Jay-Z – What Stage
These were probably the two most anticipated consecutive headlining acts of the whole festival. Jay-Z put on the show of the weekend, hands down. He is already a legendary showman who dipped deep into his catalogue to craft a set unrivalled by anyone else at Bonnaroo. Almost all 80,000 people were there to see him at the What Stage, and he thoroughly impressed.
Again, our asses were kicked and we couldn't handle anymore. We went to chill by the mushroom fountain, grabbed a bite, and went back. Sadly, this meant we missed another highly anticipated band – GWAR – but I wasn't too sad because I've seen them before. It took all my will and strength to handle another day.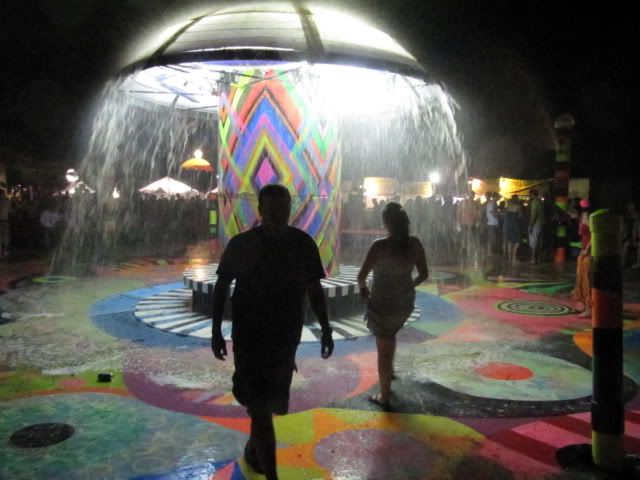 SUNDAY
Sunday was by far the hottest day and fortunately the most lax. There was only a handful of bands I really wanted to check out so luckily we could take it a bit easier, with more time to chill in the shade. The heat was seriously that bad.
So I went to watch my first game of this year's World Cup – Germany vs. Australia. The Germans won handily and I was pleased.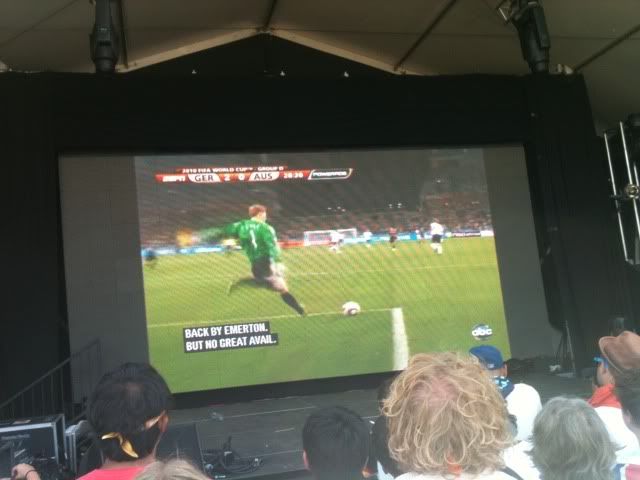 From there I checked out a band called Lucero who played a pretty cool style of country music.
Then it was off to see Against Me! and then Blues Traveler for a couple quick tunes, before moving on to the bulk of what we wanted to see.
4:00 PM – John Fogerty – What Stage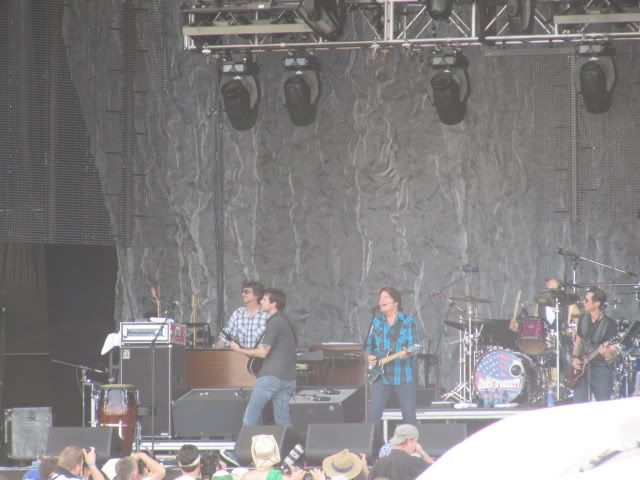 This was pretty much just a set of Creedence Clearwater Revival's greatest hits. The former CCR frontman milked nostalgia, but it was still pretty fun listening to some of the tunes I grew up hearing from my parents. "Ramble Tamble" was the standout.
5:00 PM – Ween – Which Stage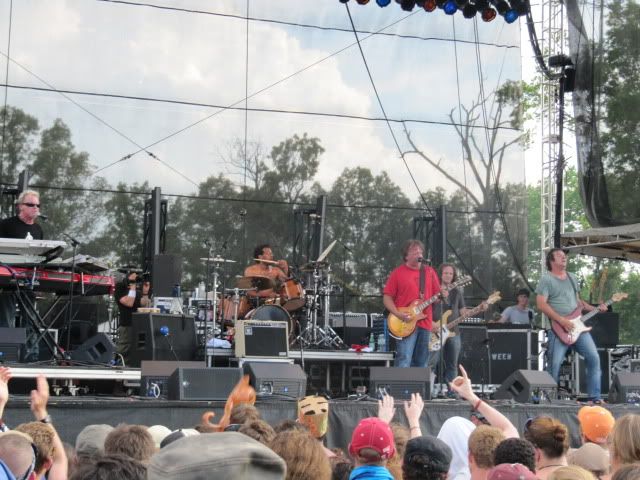 Anyone who knows me knows Ween is my favourite band. I love their ability to play almost any kind of music and how well those studio gems translate live. This was a pretty standard show of lots of songs I'd seen them play live before, but that's nothing to complain about. Also, a water balloon hit me right in the face before the show started. It was just what the doctor ordered.
6:30 PM – Zac Brown Band – What Stage
It seemed authentic to wind down our first Bonnaroo experience down with some seemingly authentic country music. The Zac Brown Band fit the bill so their tunes more than sufficed.
9:30 – Dave Matthews Band – What Stage
One of the few DMB songs I like is "Don't Drink the Water". He opened with it, so there wasn't much else for me to see. I stuck around for about half of the set and dug it. His fans love him and most of the crowd was there to see him, so you gotta give him props for that.
And that was my first experience at Bonnaroo. It was truly the most eclectic music festival I've ever been to, and that was just the music. There was a lot of comedy and other artistic performances I didn't check out. We're already planning next year's trip. The people of Tennessee were truly kind and hospitable, and the 80,000 other music fans there were fun and open-minded. Next year is the 10th edition of Bonnaroo, so you can expect something huge.
If you wanna see more of my pics, check out this facebook album.