This week the White Stripes will release Under Great White Northern Lights, the documentary highlighting their ambitious and touching cross-Canada tour in the summer of 2007. They played every province and territory, making community appearances during the day, and rocking arenas and theatres in the evening to support their Icky Thump album. As a fan, it was fun to watch their progress, turning heads at seemingly random points across the country. They captured the hearts of a whole nation one city at a time, building an incredible momentum that totally enamored new and long-time fans.
I bought tickets for the Winnipeg show at MTS Centre right when they went on sale. My fervor paid off – I scored floors. So right away I was counting down the days until the show. When the tour finally kicked off, though, that excitement simmered to a steady boil. The day of their show in Whitehorse, a buddy who lives there texted me to say they played a surprise afternoon show at a downtown park.
That was just the beginning. As they made their way east, they played surprise shows at places like a youth centre in Edmonton and a bowling alley in Saskatoon. The media caught wind, and it became the hottest tour in the country that summer. Fans became enthralled in an intoxicating guessing game, wondering where they'd show up next.
Finally, the day came for their Winnipeg show. It was the holiday Monday after Canada Day. I was lucky enough to have it off, and it was a gorgeous, vibrant sunny afternoon. Everyone knew they were gonna show up somewhere, but I really had no clue where. I was out for coffee with a friend when the phone rang. It was another buddy who heard from someone else that the White Stripes were gonna play an afternoon show, and that if fans wanted to try to catch them, they had to show up at the street corner across from Canwest Park. We rushed down there.
About 30 other fans heard the same buzz. Everyone was milling about, not really sure what to expect or where the band would actually be playing. This was, after all, just a random street corner on the outskirts of downtown Winnipeg. A couple dozen more showed up as text messages starting flying about. There were also three dudes dressed up in black suits with red ties and fedoras just standing on the opposite corner. They were clearly part of the White Stripes' entourage, but they weren't offering up any details. Finally, after about half an hour, a bus showed up, and two of them got on. One signaled to the crowd to get on too. However, only about half of the fans were able to, and the bus left. The rest of us stood there, confused. In a few minutes, text messages started coming back to us who missed the bus, saying Jack and Meg got on at the next stop, and played a few songs for the lucky bus riders.
Naturally, we were bummed. But one of the black-clad handlers told us to sit tight. After a few more minutes he told us to follow him, and led us to the end of the Provencher bridge. Again, more waiting, but we were much more optimistic we'd catch one of these rare community shows fans in other cities had been so lucky to experience. Suddenly, we saw two familiar figures emerge from the Salisbury House restaurant that's on the bridge. Luckily, I remembered my camera.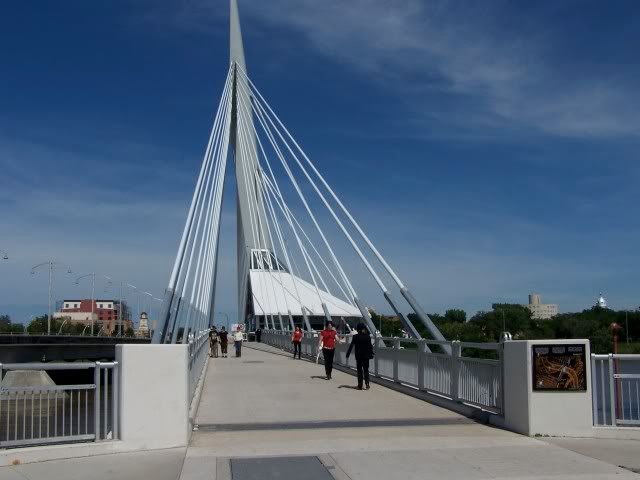 They stood on the concrete edge of the railing, and serenaded us with three acoustic songs.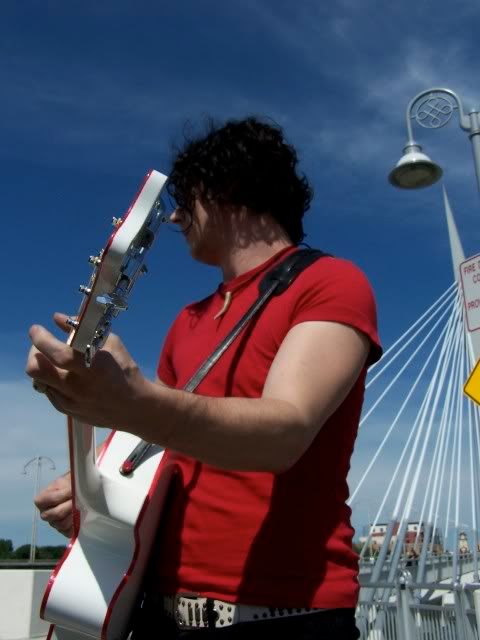 It was over in under 15 minutes, but it was one of the greatest little sets of music I've ever witnessed. It wasn't just the intimacy and calibre of the experience that totally warmed my heart – it was the effort. Not only did this band defy the odds by playing every single corner of this country that summer, they made sure their fans got the most of their visit. There are few other bands who would go out of their way to make a tour such a complete experience for their fans. I was always really into them after they broke out with White Blood Cells, but this firmly established them in the canon of legendary bands for me. The show at MTS Centre later that night was epic as well. Picking up that documentary this week will be a sweet reminder and lifelong souvenir. I'll always be grateful for being able to spend that day with them.