It was a good year for concerts. I've now been in Ottawa for a little more than a year, and I'm very impressed with the calibre of acts that come through here. And I've learned that if bands skip over the capital, they're usually playing in Montreal, which is only a two hour drive away. As I do every year, I'm gonna list the shows I dug the most here. While this year can't compare to the awesomeness that was Bonnaroo last year, Ottawa still has this two-week deal called Bluesfest, which I very much enjoyed this past summer. So here are the best concerts I saw in the year of our lord, 2011:
My Morning Jacket
Ottawa Bluesfest
July 13

Jim James is a genius, and I truly believe his talent is muffled by his studio outputs. A My Morning Jacket show is something to truly behold. Circuital is a great new album, but hearing the songs live made me love it even more. Also, remembering hearing them play the classics "Dancefloors" and "One Big Holiday" to close the show still makes me shiver.
Mastodon
Metropolis, Montreal
November 23

Their new album is probably the most polarizing amongst fans. Some love it, some hate it. I'm in the former camp. While I really enjoyed the live versions of the new tunes, I was still blown away by the intricacies of their past gems. Mastodon is the most exciting band in hard rock/light metal, and I was thrilled to hear them play my favourite tune of theirs – "Megalodon" – at Metropolis.
Queens of the Stone Age
Metropolis, Montreal
March 27

This was a once-in-a-lifetime opportunity and I'm pretty happy I was there. Josh Homme announced prior to this tour they'd be playing their self-titled debut album the whole way through in each city. Ask any QOTSA fan and they'll agree that's their best album. Hearing it live from start to finish was a real treat, along with some deadly cuts like "Turning on the Screw" and "Song for the Dead" in the encore.
Feist
National Arts Centre, Ottawa
December 5

Metals is probably my favourite album of the year, but prior to this show I really wondered how she'd pull off the huge sound on that album live. I was even more skeptical when I saw only four backing musicians and three backup singers take the stage with her, but they quickly proved me wrong. They rearranged the songs on the album nicely to fit a stripped-down band, all the while filling a huge concert hall with epic sound.
Joel Plaskett Emergency
Stockey Centre, Parry Sound
March 19

I had never seen a concert in my quasi-hometown of Parry Sound until this one. I loved his Threes album and it was great to hear a lot of those tunes in the Stockey Centre, along with some of his other hits. He was a bona fide gentleman and seemed to appreciate the love a small central Ontario town gave him.
KEN Mode
Cafe Deckuf, Ottawa
August 5

Straight outta Winnipeg, they're one of the most unique and innovative modern metal bands out there. While only a three-piece, they wrestle out some of the most monumental heavy music and launch it into the ether. Seeing them live, it's hard to believe those songs come from just a guitar, a bass, drums, and a couple voices.
The Roots
Ottawa Bluesfest
July 6

I very much prefer these guys far away from Jimmy Fallon.
Pearl Jam
Bell Centre, Montreal
September 7

Nostalgia bubbled to the surface in many ways in 2011, and this was one of them. I hadn't seen them since the last Canadian tour in 2005, so it was a treat to catch them in both Montreal and Ottawa. Ottawa had a better set list (including the elusive "Breath") but thanks to my good buddy Bob we were up close in Montreal. Old dudes rocking out!
A Perfect Circle
Ottawa Bluesfest
July 10

I seem to see Maynard in some form almost every year. I don't mind making him richer as long as he puts on shows like this one. Best APC show I've seen.
Soundgarden
Ottawa Bluesfest
July 5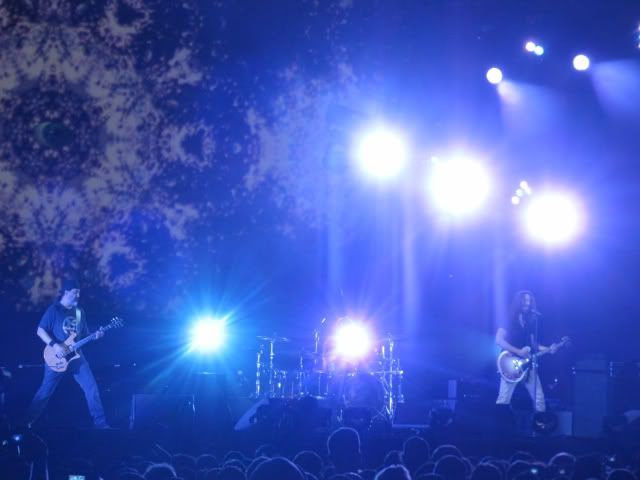 The first time I ever saw Soundgarden was in 1994 at Molson Park in Barrie, Ontario on the Superunknown tour. Nine Inch Nails opened and obviously blew them out of the water. We left after "Spoonman". I saw them a couple years later at Lollapalooza in the same venue. Chris Cornell's voice sounded even worse at that show and they were pretty much booed off the stage. All these years later I finally saw them again and they actually really impressed me.
So those were my favourite shows this year. What are yours?