Another year in the books means another year of irreparable damage to my tired eardrums. My favourite thing in the world is to hear music live, and I check out shows whenever I can. I saw some great sets this year, and as I do most years, I'll document the standouts for you here. I could just list my ten highlights from Bonnaroo (which was the best music festival I've ever experienced), but I saw bands play elsewhere that also blew me away in the calendar year. Plus, I already wrote an extensive Bonnaroo review. So here are the shows that had me walking away with a sweet ringing in my ears and a smile on my face:
Jay-Z
Bonnaroo Music and Arts Festival
Manchester, TN
June 12
The best hip-hop is always immensely enhanced by a live band. Well, picture the biggest name in hip-hop over the past two decades headlining the biggest music festival in North America with a backing band of at least two dozen musicians. Jay-Z tore through a career-spanning two hour set with an air of grace and humility one wouldn't usually expect from someone of his stature. He was fierce, unrelenting, and thankful of the fans who stayed up past midnight to hear some of the most sincere music of the whole Bonnaroo weekend. I was a casual fan before and I'm a huge fan now.
The Melvins
The Opera House
Toronto, ON
September 1
This was the first show they played in Toronto in at least ten years and everyone there was expecting something epic. They could have played "Night Goat" just once and that would have been epic enough. That song came later in the set, but it was enveloped by some of their best tunes from most of their albums. The Melvins play some of the tightest rock-metal rhythms you could ever hear layered with intricate riffs and mesmerizing vocal melodies. Sheer metal brilliance. I feel truly lucky that I got to see them twice this summer.
Burnt Project 1
West End Cultural Centre
Winnipeg, MB
February 18
I've seen my good friend Dave Boulanger play his unique blend of roots-rock many times over the years and it's always been great. But there was something about this evening that made it truly special (it could have been that it was being recorded live). He is extremely passionate about his music and he can direct a band of many to follow any lead he lays out for them. This was the best show I've seen Burnt lay down and ultimately one of the greatest performances. Keep an eye out for the new album – it's gonna be amazing.
Ween
Kool Haus
Toronto, ON
July 29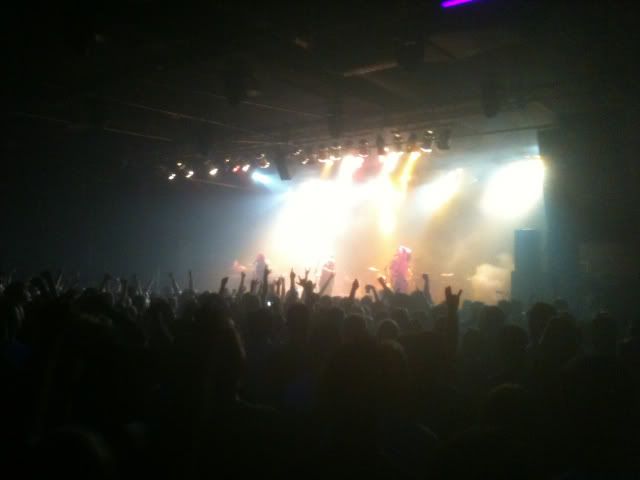 Their Bonnaroo set was mostly disappointing for me (they are my favourite band and I can count on both hands how many times I've seen them) so I came in to this show with pretty low expectations. They haven't put out a new album since La Cucaracha (2006) and I was worried they were becoming one of those touring bands that just milks nostalgia. This show proved me wrong and restored a lot of faith. They dipped into a lot of their older songs from Pure Guava and The Pod – some songs I hadn't heard live in at least a decade – and they reworked a lot of the standards. It was a smokin' set that spanned genres from rock to jazz to reggae and I hope they put out a new album soon.
Tool
Brandt Centre
Regina, SK
July 5
Speaking of nostalgia, I went into this show totally expecting to relive my 16-year-old self. I don't want to debase their monumental efforts to that, but when I see Tool live, that's what it is. Still, they opened with "Third Eye" and that will always be an unforgettable concert moment for me. That song alone is worth its own review.
ISIS
Bonnaroo Music and Arts Festival
Manchester, TN
June 12
Shortly before their summer tour, ISIS announced they were breaking up. I was very bummed but at the same time stoked that I would see them at Bonnaroo. They play some of the most intricate and intense ambient metal that I've ever heard in my life, and I feel blessed that I was able to catch them on their swan song. I've seen them play live in front of thousands of people at night time sets with huge lights and screens, but seeing them play out in the middle of the day in the heat of the Tennessee sun was the perfect send-off for me. It was all about the music.
Damian Marley & Nas
Bonnaroo Music and Arts Festival
Manchester, TN
June 11
Distant Relatives is one of my favourite albums of the year, and I was interested to see how they would pull it off live. They traded off songs from their classics – Nas' Illmatic and Marley's Welcome to Jamrock – but when they came together for their songs off this new album it was amazing. It's almost a perfect marriage of rap and reggae and I feel happy to have seen it live.
Bison BC/Biipiigwan
Cafe Dekcuf
Ottawa, ON
October 20
Bison has cornered the niche of rock-metal and their new album displays that adequately. The new songs sounded great live and they laid them down with an enthusiasm seldom seen in a lot of new heavy metal. Plus, my bro's band opened and it was the best I've ever heard them. Great crowd.
Pavement
Olympic Island
Toronto, ON
June 19
Broken Social Scene opened and it was snooze-worthy. Then all the hipsters left, unaware of the irony of taking off before seeing the band that created the music that makes them flourish. Pavement pretty much played a "greatest hits" set, but it was a great reminder why they are the ultimate indie-rock pioneers. I hadn't seen them since they initially broke up in 1999 and it was great to hear those important songs again
The Dead Weather
Bonnaroo Music and Arts Festival
Manchester, TN
June 12
Any band that Jack White is involved in is a must-see. This was a perfect mid-afternoon set under the intense southern sky. Their new album is leaps and bounds ahead of their debut one, and it was nice to hear that fantastic mix of blues and rock in that setting. Check them out if you can.
So those were my favourite shows of the year. What are yours?